Responsive website design
We are the Web Designing & Development company in Hyderabad, that is ready to take the challenge and knockout your business problems.
Best Indian Responsive Web Design Company
Your website serves as more than just a vehicle for your online brand. People are switching from desktop and laptop computers to palm-sized cellphones as we quickly move towards digitalization. You must relocate if you want responsive web design services. A business is at a considerable risk of losing a significant number of prospective consumers if a website is not optimised for a user who does everything on his phone.
Your website needs to be appropriately responsive and optimised for every device a customer uses to look for you in addition to having an appealing design. Making the company website adaptable to rank for voice searches has become essential as more people use voice search to discover local results.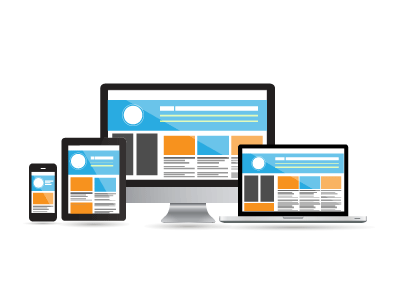 For a seamless online visitor experience, our team at Ninth Creations Media, an Indian responsive web design firm, integrates all of your potent business services into a stunning responsive website. You are losing out on more than half of your leads if your website doesn't have a responsive design as around 57% of people use their smartphone to search the web.
What is Responsive Website Design?
By automatically adjusting to the original screen size of the device, responsive website design enables websites and all pages to appear on all size devices. A responsive site design will provide the same surfing experience on all platforms, whether they are a laptop, tablet, or smartphone.
To provide all website visitors with the smoothest possible website browsing experience, a responsive web design is essential. The website will appear as a large forced pages that is being opened on a small screen without a responsive design, leaving all the text unreadable.
A good responsive website designing company like EZ Rankings will revamp your old website or create a new one for your business to make sure you are making the most of your online identity. Many business owners neglect to have a responsive website. And, this is the easiest way to outperform them by winning more ranking factors that include mobile-friendly web design.
Hire us as your Web Designing & Development Partner.
We can take care of every facet of your designing and development requirements.
A website that does not work for SEO factors will not justify the investment. We assure that we follow the Google guidelines, and our website comes with an inbuilt SEO for ranking at the top pages. 
Social Media Integration​
These days, businessmen are looking for social media sharing to enhance more value and visibility. So, we offer a readily available website with social media integration.
Our ultimate aim is to earn customer satisfaction. We always value the customer approach and honour the commitment.
We always love to connect with our customers. So, we have established the technical support team to respond and get in contact with our audience at any time and day. 
Ultra Fast Loading Websites
Loading speed is one of the factors concerning SEO and user experience. So, you need not worry about the loading speed of the website. We only offer super-fast websites.
Being creative is one of the ways through which we can gain the attention of the visitors. We have a team of professionals who can think out of the box and bring a unique design for the websites.